Ukraine war: Auschwitz anniversary marked without Russia
Read Time:
2 Minute, 52 Second
For the first time a Russian delegation was not invited to a ceremony marking the liberation of the former Auschwitz-Birkenau Nazi death camp in modern-day Poland.
Russia is usually represented at the event, as the camp in occupied Poland was liberated by the Soviet Army.
But this year, following Moscow's unprovoked invasion of Ukraine, the Auschwitz-Birkenau museum declined to invite Russian officials and its director likened the Ukraine war to the horrors of the Holocaust.
In response, Russia accused the museum of attempting to "rewrite history".
At the event on Friday, museum director Piotr Cywinski said Auschwitz was created by Nazi "megalomania" and a "similar sick megalomania" and "similar lust for power" had driven Russia's destruction of Mariupol and Donetsk.
Speaking to an audience including camp survivors, he warned that "once again, innocent people are being killed en masse in Europe".
"Russia, unable to conquer Ukraine, has decided to destroy it. We see it every day, even as we stand here. And so it is difficult to stand here today."
Reacting to the decision, Russia said Soviet soldiers who freed Auschwitz would not be forgotten.
"No matter how our European 'non-partners' contrived in their attempts to rewrite history in a new way, the memory of the Soviet heroes-liberators and horrors of Nazism cannot be erased," Russia's foreign ministry spokeswoman Maria Zakharova wrote in a pointed social media post.
Auschwitz survivors also expressed their fears over the fallout of the war in Ukraine at the event.
Polish survivor Zdzislawa Wlodarczyk said she was "scared to hear what is happening in the East".
She told the audience that she had arrived in Auschwitz as an 11-year-old following the Warsaw Uprising, a failed attempt by the Polish resistance in 1944 to liberate the city from the German occupiers.
She and her 7-year-old brother remained in the camp until the Soviet army liberated it.
"The Russian armies that liberated us are now waging war on Ukraine. Why? Why? That's what politics is," she said.
The Polish nation has stood firm in its support for Ukraine during the conflict, with Poles housing hundreds of thousands of refugees in their own homes and offering military support to its neighbour.
Russian officials have taken part in their own commemorative events, with Vladimir Putin meeting Russia's top rabbis on the eve of the remembrance day on Thursday.
The Russian leader said he was "pursuing a policy meaning nothing like this in the history of mankind will ever happen again".
Russia's Chief Rabbi Berel Lazar has spoken about his regret that Russia has been excluded from the commemoration, warning that "these political games have no place on Holocaust day".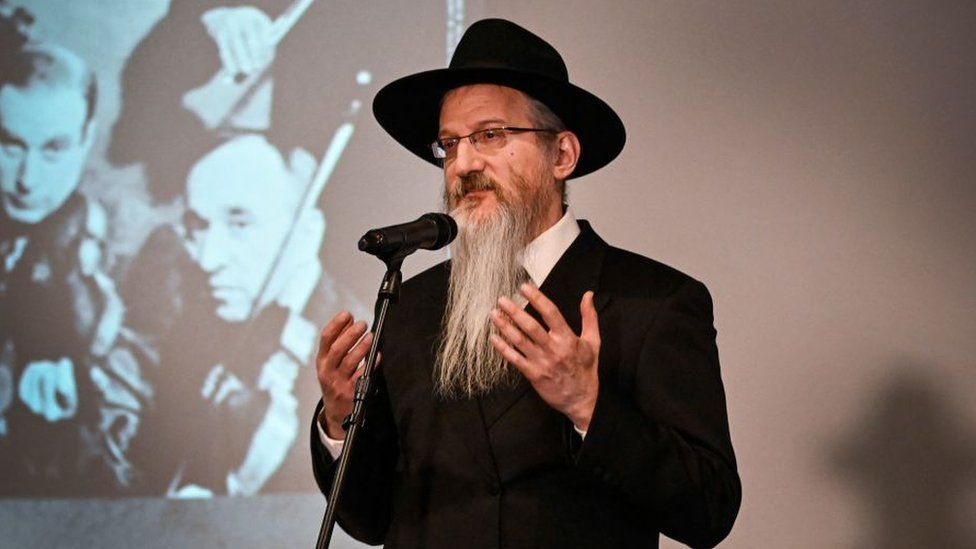 He told AFP: "For us, this is clearly a humiliation because we perfectly know and remember the role of the Red [Soviet] Army in the liberation of Auschwitz and in the victory over Nazism."
Friday's event marks the 78th anniversary of the Soviet army liberating the concentration and extermination camp in German-occupied Poland, where more than one million people were murdered by the Nazis.
Auschwitz-Birkenau was created as a part of the Holocaust, a process that started with discrimination against Jewish people, and ended with six million Jews being killed because of who they were.
In total, 1.1 million people died in the camp, around one million Jews from across Europe as well as Poles, Soviet POWs, Roma and Sinti.