Sudan crisis: NHS doctors told they can catch last UK evacuation flights
Read Time:
4 Minute, 17 Second
The UK government has told NHS doctors in Sudan they can now catch evacuation flights out of the country, in a U-turn on its previous policy.
More than 20 NHS medics were initially told they could not board flights because they were not British nationals – although they have UK work permits.
The change comes just hours before the UK's final rescue flights out of Sudan.
Fighting erupted in capital Khartoum two weeks ago due to a power struggle within the Sudan's military leadership.
Countries have been frantically rescuing their citizens, with the latest evacuations happening during a US-brokered ceasefire, which has not held.
On Friday evening, the US also reportedly started evacuating civilians on buses – with a convoy carrying some 300 people leaving Khartoum and heading towards the coastal city of Port Sudan, according to US media. It appears to be the first evacuation of non-diplomat Americans from Sudan.
British nationals and the NHS doctors hoping to leave war-torn Sudan now have until midday local time (11:00 BST) to reach the Wadi Seidna airfield, with the final flight to depart at 18:00 BST on Saturday.
They have been instructed to make their own way to the airfield.
The Foreign Office said the last flights mark "the end of a successful evacuation operation with 1,573 people evacuated so far", and it was winding up evacuations due to "declining demand for seats".
It added that the UK has "set up a limited consular presence at Port Sudan to signpost British nationals to available options for departure".
Stories emerged this week of National Health Service doctors being turned away from the airport in Khartoum – and the Foreign Office repeatedly told the BBC that only British passport holders and their dependents were able to get on the flights.
They insisted anyone with a work permit was welcome in the UK, but must make their own way there.
On Friday evening, a message was circulated by the Department of Health and Social Care to NHS doctors in Sudan, telling them to make their way to Wadi Seidna airfield, just north of the capital, for evacuation.
The text, seen by the BBC, tells any medical staff with leave to remain to bring dependents and proof of NHS employment.
The change comes after the case of Sudanese doctor Dr Abdulrahman Babiker, who was initially refused a place on a British evacuation, made headlines.
Dr Babiker has now successfully been evacuated and caught a flight which landed in Cyprus on Friday evening.
He told the BBC he was "really glad" that the UK government had changed its guidance – but said there was "just one day only" for his colleagues in Sudan to make the last flights.
After he landed in Cyprus, he said he had "mixed feelings", saying: "I am happy that I am finally in a safe place, away from a war and on my way back to the UK. At the same time I feel down that my family (my dad, mum, brother and sister) are still endangered by this deadly fighting in my country.
"I am thinking about them now and trying to work out what I can do to help them escape the danger zone."
The Manchester Royal Infirmary doctor is planning to fly to the UK later and is due back at work on Tuesday.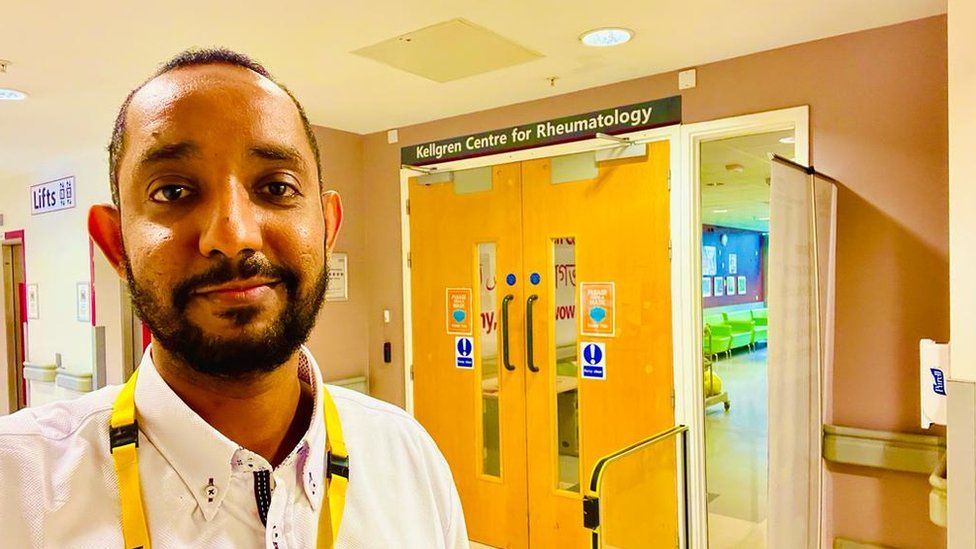 The British Medical Association had called on the government to "ensure all NHS doctors, and their families, including those on UK visas are evacuated".
Those comments were echoed by Labour shadow foreign secretary David Lammy, who said if there was a reduced demand for evacuation flights while the ceasefire is ongoing, then the government should widen its criteria to include British residents trying to flee Sudan.
He added: "It cannot be right for the government to clap for NHS doctors one day and then turn them away from evacuation flights out of a conflict zone the next."
The UK's evacuations to the RAF base in Cyprus began last Tuesday.
Other countries have also been evacuating their citizens, and the UN refugee agency said around 33,000 refugees fled from Khartoum to refugee camps in Sudan's White Nile state.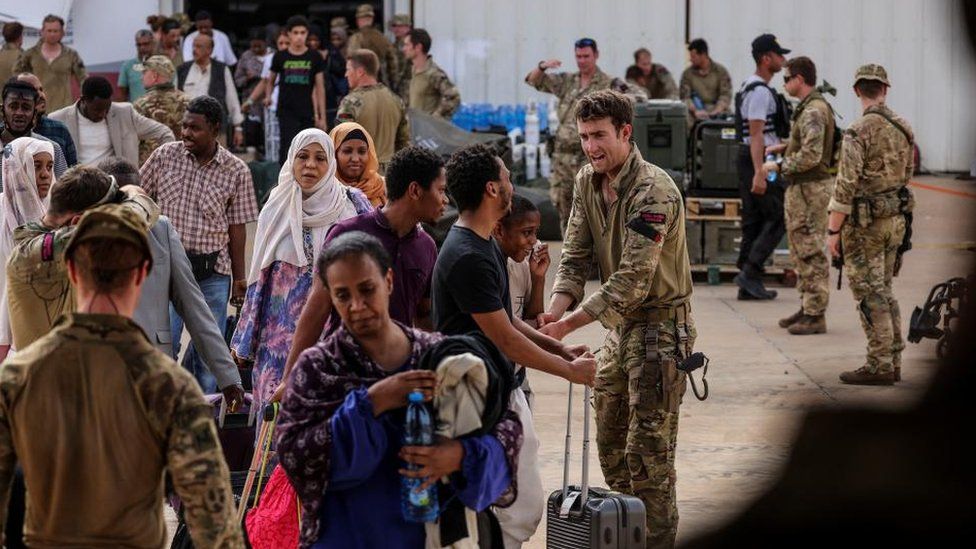 Heavy fighting between the Sudanese army and its rival paramilitary Rapid Support Forces (RSF) has killed at least 512 people, and injured almost 4,200.
Missiles and heavy weaponry has also damaged the country's key infrastructure, including access to clean water and the internet. Health officials say most hospitals in conflict areas are not functioning, and more than 60% of health facilities in the capital, Khartoum, are inactive.
Despite the ceasefire, fighting has not come to a halt and eyewitness have reported fighting in Khartoum, the western Darfur region and other provinces.
The truce – due to end at midnight local time on Thursday (23:00 BST) – was extended for a further 72 hours.
US Secretary of State Antony Blinken – who mediated talks alongside neighbouring countries, the UK and UN – said that while the ceasefire was imperfect, it had reduced violence.
The UK Foreign Office called the evacuation effort "the longest and largest evacuation effort of any Western country".