Then & Now: The Evolution of Cannabis
Read Time:
4 Minute, 14 Second
Regardless of your attitude to cannabis – for or against legalization and use – you're sure to recognize this plant and understand what it is. Weed is well-known today as an herb with a ton of useful properties, a demonized drug, a source of material for cloth and rope production, etc. It has many names and even more applications. 
But most modern people don't know the rich and adventurous history of the cannabis plant's evolution and setup in its current form. Let's make a deep dive into the origins of cannabis, its ancient history, and the path it covered to the modern state. 
Emergence of the Cannabis Plant  
Let's start from the basics. In prehistoric times, around 500 million years ago, the first land plants started evolving from the algae growing on rocks. The first plants looked like moss and had no roots, seeds, or leaves. But with these plants' decay, the initial layer of soil gradually formed, giving a home to plant roots and moving the evolution further.
Hemp, or Сannabis sativa, grows in other parts of Asia and across Europe. It is more adapted to cool temperatures and flowers according to the local seasonality. Sativa weed has a lower concentration of cannabinoids. All three subtypes are used in hybrid production today to help users enjoy exclusive strains, like the Birthday Cake strain, a 50/50 indica-sativa hybrid with a mild, relaxing effect. 
Flowering plants, including cannabis, were the last plant group to emerge; this event occurred around 130 million years ago. Just fancy: a weed plant grew in the times when tyrannosauruses and triceratopses were walking the endless valleys of the prehistoric world! 
Specifically, the Cannabaceae family, to which weed belongs, formed only 60 million years ago. Some studies name an even later period, around 28 million years ago, suggesting the weed's divergence from the Humulus family (the modern-day hop).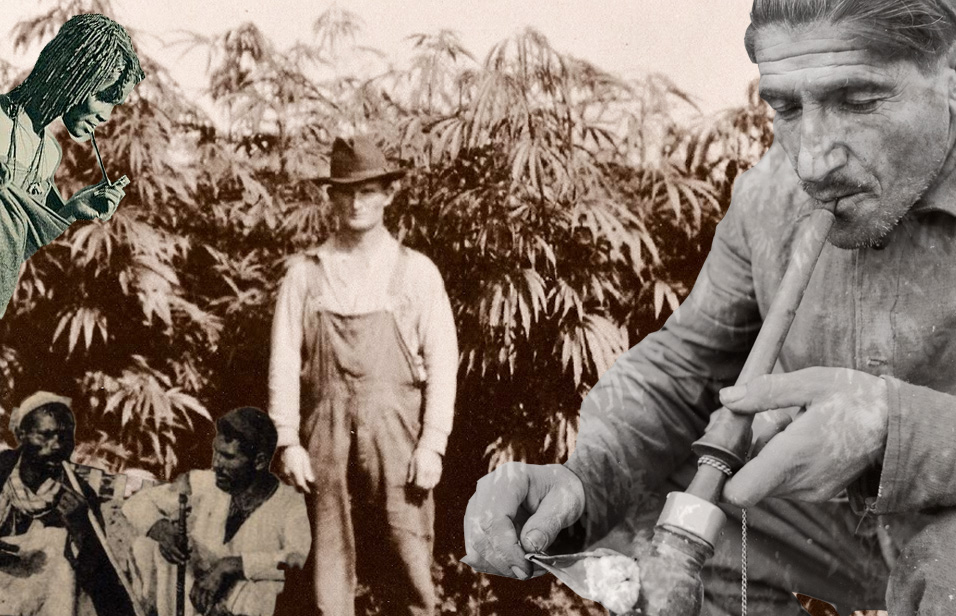 Geographic Spread of Cannabis 
Recent estimates by historians and archeologists hold it that the modern form of the cannabis plant emerged around 12,000 years ago, with the hemp and drug cannabis species separating more than 8,000 years ago. The origin of cannabis is the western part of China, though some scientists hold that it was Tibet. 
Originally growing in East Asia, cannabis also spread to India around 3,000 years ago to expand its geography. Interestingly, Africa and Latin America didn't have any cannabis plants one thousand years ago, and North America was the content where cannabis came last. Hemp has been growing in North America since the 17th century, while the THC-rich version thereof was delivered and planted only in the early 1900s. 
Cannabis and Ice Age 
The most striking fact about cannabis is its ability to survive the Ice Age, differentiating into its modern sativa, indica, and ruderalis varieties exactly in that period. Historians associate this anomaly with weed's survival efforts, which led to the divergence of subspecies able to grow in absolutely different conditions. For instance, the indica subtype emerged in warm, humid areas like India, Pakistan, and Afghanistan. Cannabis indica is highly adaptive to temperatures and can survive hot summers and frosty winters. 
The Asia-specific cannabis subtype is ruderalis – a small bush with low resin production – emerged in the course of evolution. Cold temperatures and scarce sunlight characterize these areas, so the plant adapted to such living conditions with a low stature and age-dependent flowering. 
Cannabis in the USA 
Now, what about the evolution of hemp in the USA? The earliest traces of weed's presence in the USA can be found in 1841, when William Brooke O'Shaughnessy returned from India, bringing the Indian healing plant with him. O'Shaughnessy witnessed and learned many therapeutic applications of weed for medical purposes in India, such as stopping convulsions and relieving pain. 
As science progressed, the major sedative component of weed – cannabinol (CBN) – was isolated from the weed plant in 1898. However, the positivity around marijuana was not long; in 1936, the Hollywood film Reefer Madness spoilt the weed image by portraying the plant as a hazardous, addictive drug, pushing people to the brink of madness and violence. That movie triggered a wave of legislative action against marijuana – first the 1937 Marijuana Tax Act and then the 1970 Controlled Substance Act. 
The first step toward legalization of cannabis use for medical purposes was made in 1996 with the passage of the Compassionate Use Act in California. That act ushered a new turn in the history of treating cannabis not only as an addictive drug but also as a plant with a rich history and a variety of therapeutic applications. 
Modern Image of Cannabis 
Much has changed in the marijuana debate over the past couple of decades. The legalization progresses slowly but steadily, and weed is less associated with gangsters, rap singers, and hip-hop culture than in the 1990s. Contemporary science offers much more precise explanations for the cannabinoid effect on the human brain and gives safe use and dosage guidance. Therefore, weed is again entering the mainstream public agenda after years of demonization and neglect.