Credit Suisse shares hit as investor fears reignite
Read Time:
3 Minute, 7 Second
Share markets are continuing to buckle under concerns about a crisis in the banking sector, despite efforts by authorities to restore confidence.
Indexes across Europe and the US fell on Friday as a sell-off in troubled Swiss lending giant Credit Suisse gathered pace.
Credit Suisse shares fell 8%.
In the US, shares in First Republic dropped 33%, a day after it received an injection of funds from the country's biggest banks.
The FTSE 100 ended down more than 1%.
Exchanges in France and Germany also closed lower, while the Dow Jones Industrial Average index fell 1.2%. The Nasdaq and the S&P 500 indexes were also down.
Credit Suisse had rattled investors earlier this week when it admitted that it had found "material weakness" in its financial reporting, while its biggest shareholder – the Saudi National Bank – said it could not inject further funds into the Swiss lender.
The firm, which has been troubled for a long time and continues to be loss-making, received an emergency £45bn lifeline from the Swiss National Bank, but fears about the bank's health remain.
Roughly $466m has left Credit Suisse's European and US managed funds in recent days, according to data from financial services firm Morningstar.
Morningstar analysts Niklas Kammer and Johann Scholtz said they believed the problems at Credit Suisse were "idiosyncratic in nature and we believe containable for now even in a worst-case scenario".
However, they added that "developments are currently happening at a rapid pace and views we form today may be stale tomorrow".
The issues at Credit Suisse – which employs about 50,000 people worldwide, with around 5,000 in London – have coincided with the failure of two lenders in the US – Silicon Valley Bank (SVB) and Signature Bank – raising fears over the health of the banking system.
US regulators stepped in at the weekend to ensure that customers at SVB and Signature Bank had full access to their money – in an effort to head off further panic.
But concerns remain that other banks, including San Francisco-based First Republic, could be vulnerable to a rush of customers withdrawing their deposits.
It shares had sunk by nearly 70% over the last week.
The 11 US banks who announced support for First Republic on Thursday said the action reflected their "confidence in the country's banking system".
US financial officials said the move was "most welcome, and demonstrates the resilience of the banking system".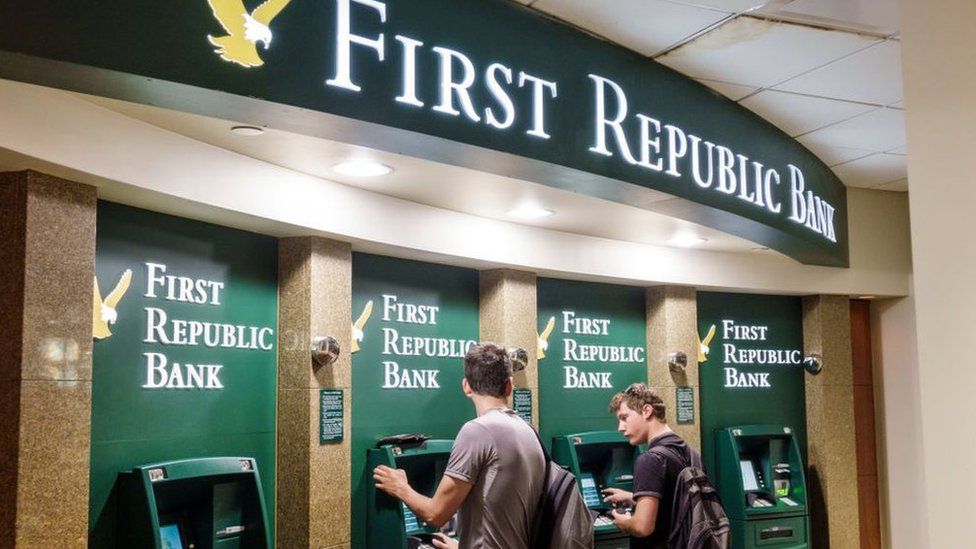 Central banks around the world have sharply raised borrowing costs over the past year to try to curb the pace of overall price rises, or inflation.
The moves have hurt the values of the large portfolios of bonds bought by banks when rates were lower, a change that contributed to the collapse of Silicon Valley Bank, and has raised questions about whether other firms are facing similar situation.
On Friday, SVB Financial Group – the parent group for Silicon Valley Bank – filed for bankruptcy protection to enable it to sell off its remaining assets.
Jeffrey Cleveland, chief economist at US asset manager Payden and Regal, said other banks could be caught up in the problem.
"There could be other vulnerabilities… if central banks are intent on continuing to raise interest rates," he told the BBC's Today programme.
"Historically when that happens we do see fragility, we do see problems in the financial system."
Before the turbulence in the banking sector erupted, both the US Federal Reserve and the Bank of England had been expected to raise interest rates further at meetings next week. However, due to recent events, some have speculated these rate rises might be scaled back or even scrapped.
On Thursday, the ECB announced a further increase to interest rates from 2.5% to 3%.